Unmatched home health care services
Unmatched home health care services
Assisted living services help patients with daily care tasks and everyday needs while allowing them to continue to live in the comfort of their own homes. Since 1993, Health Force has been providing the highest quality assisted living services that allow patients to remain at home while receiving quality care from Home Health Aides/Certified Nursing Assistants.
If you or a loved one needs assisted living support, the dedicated Home Health Aides (HHA) and Certified Nursing Assistants (CNA) are ready to help.
When Does a Loved One Need Assistance?
It can be difficult to determine when the right time to seek assisted living is. Many seniors experience a decline in mobility or capacity slowly over time, so there's often not an obvious point at which assisted living may be necessary.
However, there are several warning signs you can look for that indicate it is a good idea to start exploring support options:
Sudden weight loss or difficulty preparing meals: One of the biggest benefits of assisted living care is the help seniors get with grocery shopping and meal preparation. Cooking, cleaning, and meal planning can take up a lot of time, and some seniors grow forgetful or simply don't dedicate the time required to eat as much as they need to.
Infrequent bathing: If you notice your loved one is no longer bathing regularly, this is a good sign that they are no longer physically able to take care of themselves full time.
Assisted living support can provide the necessary help with everyday hygiene tasks like bathing, brushing teeth, and grooming.
Lack of mobility: It is not uncommon for seniors to experience a decline in mobility as they get older, even absent diagnosed health conditions. This is just a natural part of aging. If your loved one is experiencing difficulty getting around the house or to appointments, assisted living support can help.
These are just a few signs that assisted living services be a good option for your loved one. However, each situation is different, and each senior has different needs. Have a conversation with your loved one about the idea of assisted living, and contact Health Force with any questions.
How Does Health Force Assisted Living Services Work?
At Health Force, our HHA/CNA prioritize individualized care that is developed specifically based on the patient's needs and level of assistance. We take great care to hire only compassionate and qualified CNAs/HHAs for assisted home health services. We have HHAs/CNAs available 24 hours a day, seven days a week.
Our focus is on finding you the right HHA/CNA match to meet your loved one's needs. The first step in establishing care is conducting an in-depth health and home assessment.
Once we determine the level of care needed, we will match your loved one with a CNA/HHA for assisted home health services. We consider a number of factors when making the match to ensure that it is a good fit that will foster a trusting relationship.
All of our Health Force employees are closely supervised and fully vetted, and they have passed background and drug screenings. Many of them have years of experience in assisted home health services, so your loved one will always be in good hands.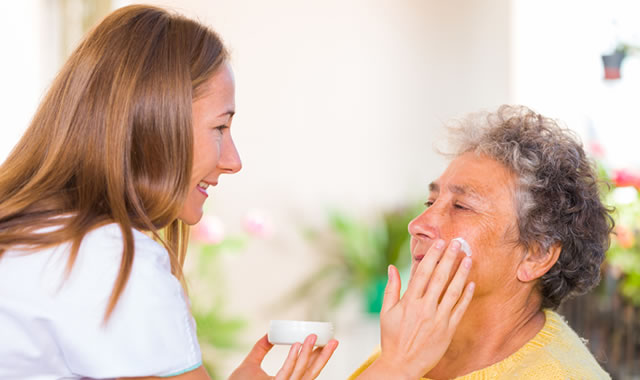 Assisted Home Health Services
Assisted living care is a specialized type of care intended to help seniors with day-to-day tasks. Our assisted living services include personalized one-on-one care that is both professional and compassionate.
Health Force assisted living support includes the following services:
Medication reminders

Companionship

Escorting to appointments

Assistance with mobility

Hospice care

Meal prep and shopping

Feeding

Bathing and incontinence care

Home health aide services
It is important to note that HHAs/CNAs are not registered nurses and do not provide medical care. If you have specific questions about skilled home health services we provide, click here.
Memory Care Services
If you or a loved one is experiencing early stage, mid-stage and late-stage dementia, our Assisted Home Health Services may be a suitable option. Each type of dementia disease has a different underlying cause. This leads to differing symptoms and causes them to progress in differing ways. As such, the HHA/CNA assigned to your case will have specialized training in patient memory care. Like our Assisted Living Services, we begin by visiting your home to conduct an at-home assessment to determine the specific care plan is best for your loved one. Our goal is to make your family member who is living with dementia as comfortable as possible in their own home and best taken care of.
The Cost of Assisted Living Services
Many families put off seeking assisted living services because they think they cannot afford them. However, care is more affordable than you may think. We accept many forms of insurance, including commercial and long-term care insurance, Medicaid and Medicare. We also accept private payment.
If you are unsure what coverage you have or if you have any questions regarding payment, we are here to help. We are more than happy to work with you to find a payment solution that works for you and your family.
What to Expect from Health Force
At Health Force, we understand that having someone come into your home or the home of a loved one can be a big decision. It is natural to worry and to have questions about the process and level of services provided.
We want all of our patients to feel at home and comfortable regardless of what type of support they need. That's why compatibility is a big consideration in matching our HHAs/CNAs with a patient.
We also take great care in our hiring decisions and only hire the most skilled and compassionate caregivers. All of our staff are employees of Health Force: we do not use third-party contractors.
Our team is always here for you, and we provide 24-hour on-call service in case you need immediate support. We are always more than happy to answer any questions or address any concerns. The needs of you and your loved ones always come first — contact Health Force today by clicking here.